Cover Letter Examples
This page includes all of our cover letter examples for various job positions.  A cover letter is a letter of introduction to an employer, which is used to formally submit a resume for employer review. Use the samples below to generate ideas for writing your own career document.
This document also formally presents yourself as available for a job position or range of positions within a company.
The letter serves as a job search tool that works alongside your resume. It gives you an opportunity to quickly introduce yourself to the reader and grab their attention.
Like the resume, these letters provides the job seeker with another opportunity to market their skills and experience to the hiring manager.  This letter will encourage decision makers to read the resume and ultimately earn a job interview.
The cover letter examples are listed in alphabetical order by job title. Note that each one is written in its own style and structure. Some letters respond to job ads, and others are written directly for hiring managers. A few of the introduction summaries are cold.
You'll also find benefit in browsing examples outside your profession for variety. These professionally written examples should help you write a more effective piece!
Cover Letters by Professional Writers
How to Use Cover Letter Examples
As a critical part of the job search process, this document is your first chance to gain interest from an employer. It also provides the employer a small sample of your writing skills. A well written letter will show the company that you communicate in a professional manner.
It provides a brief snapshot of your career. The overall goal is to quickly grab the reader's attention so they will spend more time reading your resume. In some cases, an effective cover letter alone can earn a job interview. If you do your research, you won't find a certified career or resume writing professional that doesn't recommend sending one out with every resume.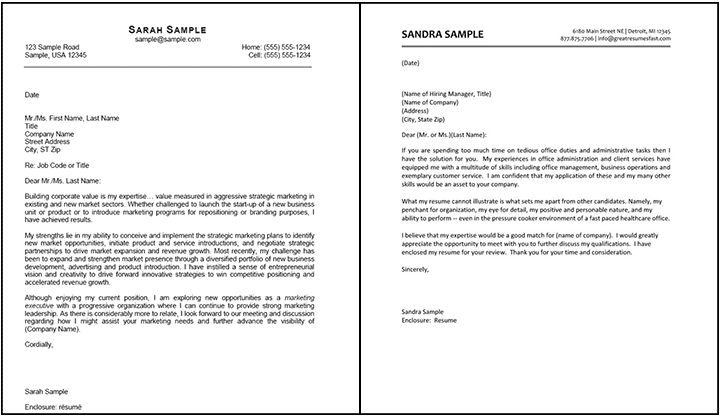 You'll find on our examples pages that these letters can be written in various styles and formats. Choosing a style or format may depend on a number of factors and the general approach towards your application. For example, you may use a cover letter in different situations, such as:
Applying for a position in response to a job advertisement or online job posting.
Submitting based on a referral from a friend or colleague.
Sending your resume cold to employer that you know hires people in your field and industry.
Introducing your resume for an internal position.
Each of these documents will have a distinct introduction.   Pay attention to the introductory summary, experience and closing paragraphs.  You can mix concepts from a variety of these pages and build a document that works for you.
Additional Resources for Cover Letters
Sample Cover Letters by Harvard
Purdue Owl English Employment Documents