This article includes a resume for a Doctor seeking a position as a Medical Consultant. The document below is a good reference sample for any doctor or higher level medical professional or doctor's that have a background in health care research.
The resume for a doctor of medicine uses a Medical Consultant job title headline. The headline is followed by a brief summary of qualifications that outlines skills in communications, analysis and implementation.
The formal education section follows, which outlines the M.D. degree along with the Boards and MCAT Scores. Information about the Bachelor Degree with a high GPA is also included.
The job candidate has the medical degree, but their experience has primarily involved research, so this doctor has had to make it very clear they are interested in consulting and research and not practicing medicine as a Physician.
In this sample, the writer uses the internship at Northwestern University as an individual job. The jobseeker lists the research project initiatives and uses bullet points to highlight key actions and achievements, including the ability to gain funding for further research.
Like any quality research position, this individual had their work published and listed their publications and related presentations on page 2 of the resume. Honors, Awards and Community services provide additional details that demonstrate this individual's high level of character.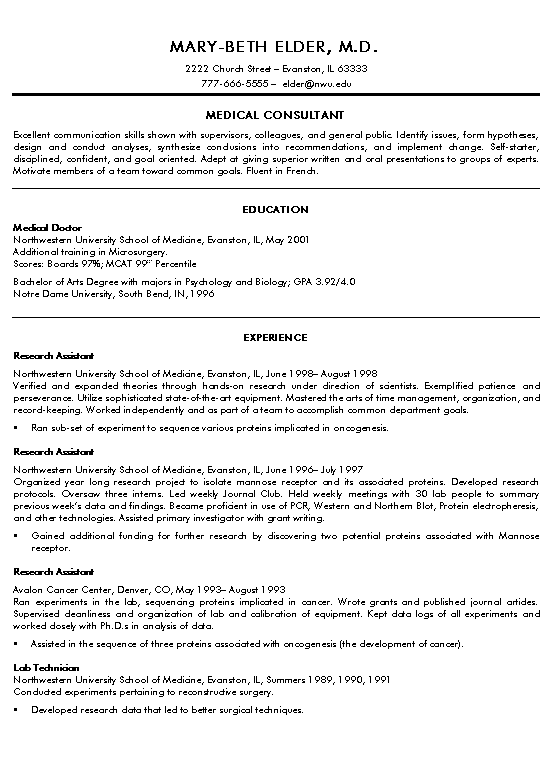 Medical Doctor Resume Example – Page 1
Medical Doctor Resume Statements
Provide medical care and conduct wellness exams for individuals and medicare beneficiaries.
Provide education for the prevention of serious diseases and assist patients in the management of acute and chronic medical conditions.
Diagnose patients, order diagnostic tests and provide referrals for specialized treatment or rehabilitation.
Determine cause of sickness and prescribe medications.
Collaborate with clinical staff and specialty Physicians on multiple discipline treatments and coordinated care efforts.
Strong knowledge of relevant drugs, chemical compositions and substance properties.
Solid understanding of non-pharmaceutical patient care aids and non-prescription pharmacy products.
Medical Doctor Resume Sample By Advantage Resumes 
Latest Resume Writing & Career Articles