The job seeker in this resume has one specific job target with over 7 years of experience in the the position of Staff Accountant.  The resume is written in a functional style that includes a summary, full documentation of experience,  simple listing of work history and education.  This style is appropriate since the roles and responsibilities are virtually identical in each job position.
The summary paragraph identifies the key points that separate the candidate from the competition.  The writer emphasizes knowledge of fiscal operations, business administration, ad hoc reporting, closing, analysis and other areas.  You will also notice a mention of leadership, collaboration and planning.  The last sentence documents specific accounting software that would be a necessary requirement for the job.
The experience section uses a bullet list to document specific responsibilities or achievements.  A few of the more influential statements are in bold format such as ensuring optimum inventory levels or resolving discrepancies with bank postings.  Below experience the name, city, title and dates are listed from present to past. The education section lists the Bachelors degree in Accounting.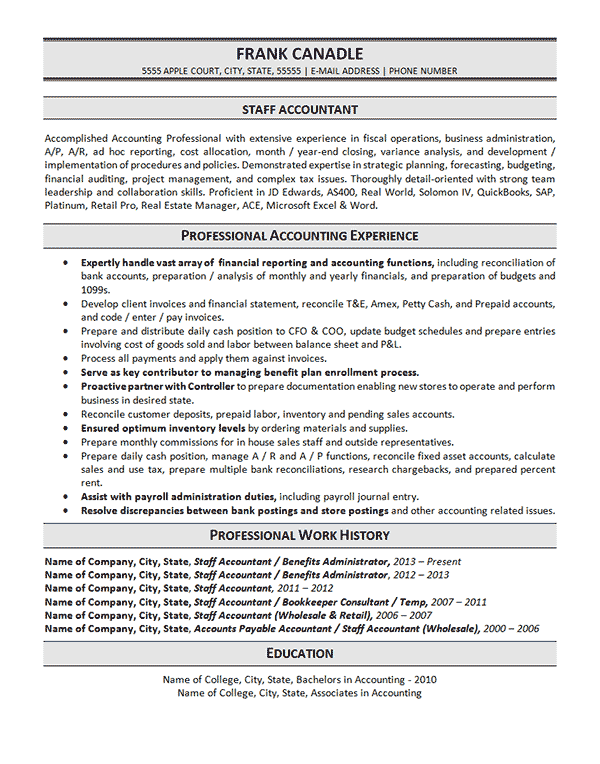 Staff Accountant Resume Statements
Handle vast array of financial reporting and accounting functions.
Managed reconciliation of bank accounts, analysis of periodic financials, and preparation of budgets.
Develop invoices and financial statements for clients.
Reconcile T&E, Amex, Petty Cash, and Prepaid accounts.
Prepare and distribute daily cash position to management.
Update budget schedules and prepare entries involving cost of goods sold and labor.
Process all payments and apply them against invoices.
Prepare monthly commissions for in house sales staff and outside representatives.
Assist with payroll administration duties, including payroll journal entry.
More Finance Resume Examples